For men who enjoy singing (wherever you sing)!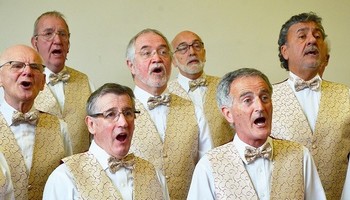 There is no need for a voice test - just turn up for a rehearsal and savour the "Daytones' Experience"! You don't have to be Pavarotti or read music to join - teach tracks are provided. We believe that we are pretty good at helping "new boys" climb aboard!

The Daytones music team under the leadership of the Chorus Director are continually developing the chorus repertoire. Songs chosen span a broad range of musical genres, all arranged in the distinctive style of modern barbershop harmony.

We have a substantial collection of popular classics, a Christmas repertoire, and a number of international barbershop numbers known as Polecats.
We meet every Tuesday morning from 10 to 12, at Clifford Village Hall, Albion Street, Clifford, LS23 6HY. At our rehearsals for a couple of hours, we receive excellent coaching from our talented music team, a good measure of "banter" as we practise, and great camaraderie with a like-minded group of friends. Men come to rehearse from as far afield as Ripon and Sutton-on-the-Forest, Selby, Pontefract and Huddersfield, so if you would like to join in the fun, and you have Tuesday mornings free, why not pop across to Clifford to see a rehearsal, have a cuppa with us and enjoy a morning of "Songs and Banter"!

Once you have been to your first rehearsal and liked what you have seen, we will provide you with access to all the resources that you need, while you decide whether you wish to commit and join. There is no set time limit, but we want you to feel comfortable for a few weeks before making the decision. You will receive a login that lets you access the musical scores along with teach tracks. This allows you to become familiar with and learn the various parts. On joining, your membership will give access to the full website.

Ten Reasons To Join Us!

With due credit to Opera North who make a really good contribution to our musical community, we include this link giving 10 Reasons why Singing is Good for You. A fantastic incentive to Join Us!

BBC Podcast

BBC Radio 4 recently broadcast a podcast revealing how singing may release "happy hormones" to give you a true natural high. Read the article and listen to it here: Why Singing is Good for your Body and Mind