Daytones Singouts Over The Years
The Daytones always enjoy sharing their music-making in local performances - it's important in the life of the chorus and it's why we rehearse so carefully. Be it in large, prestige concerts or smaller social events we love to see our audiences enjoying the harmonies in our repertoire and the banter in our shows.
Thanks to our bookings secretary and groups who keep inviting us back we maintain a busy yearly performance schedule; alongside rehearsing and socialising, this is an important feature of life with the Daytones! Please see for yourself below what we have enjoyed in recent years.

Events highlighted in Cyan are shown in more detail - scroll down for more information:

2021


October - Fountains Abbey
August - RHS Harlow Carr
February - Zoom Rehearsal- Bill Nimmo - The Humour of Scouse
February - Zoom Rehearsal - Bruce Chalmers - I Dare To Dream by Donna Ashworth
February - Zoom Rehearsal - Gordon Fisher - 1066

2020
December - Christmas Zoom Rehearsal/Party
December - Christmas Zoom Lunch
January - Voices Yorkshire - M&S Owlcotes
January - NZ Member Send Off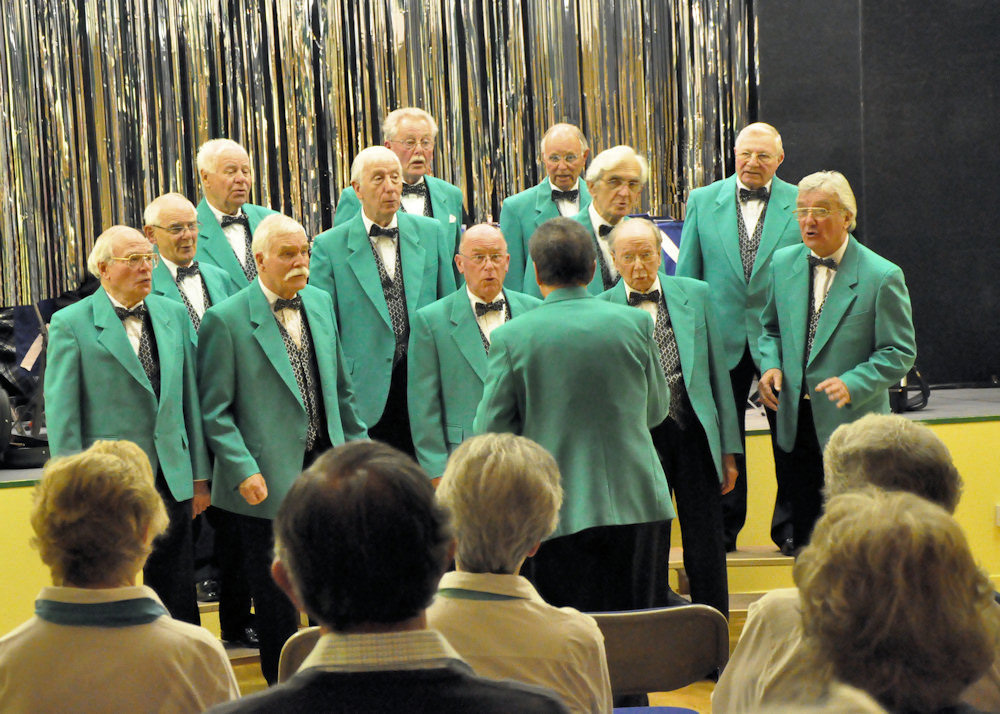 February - Haxby and Wigginton U3A - Wigginton
2019
February - Ebor Probus Club - Edward the Confessor, York
April - Connaught Court - Fulford, York
May - Wharfedale Music Festival - Ilkley
June - Making Music Day - Horsefair, Wetherby
July - Boston Spa Summer Festival - Boston Spa

July - RHS Garden Harlow Carr - Harrogate
September - Voices Yorkshire - Leeds Town Hall
September - Manhattan Voices Joint Concert - Scarborough
September - Tour De Yorkshire
December - Granby Residential Home - Harrogate
December - Pudsey Live at Home - Pudsey
December - Singing for St Gemma's - Leeds Corn Exchange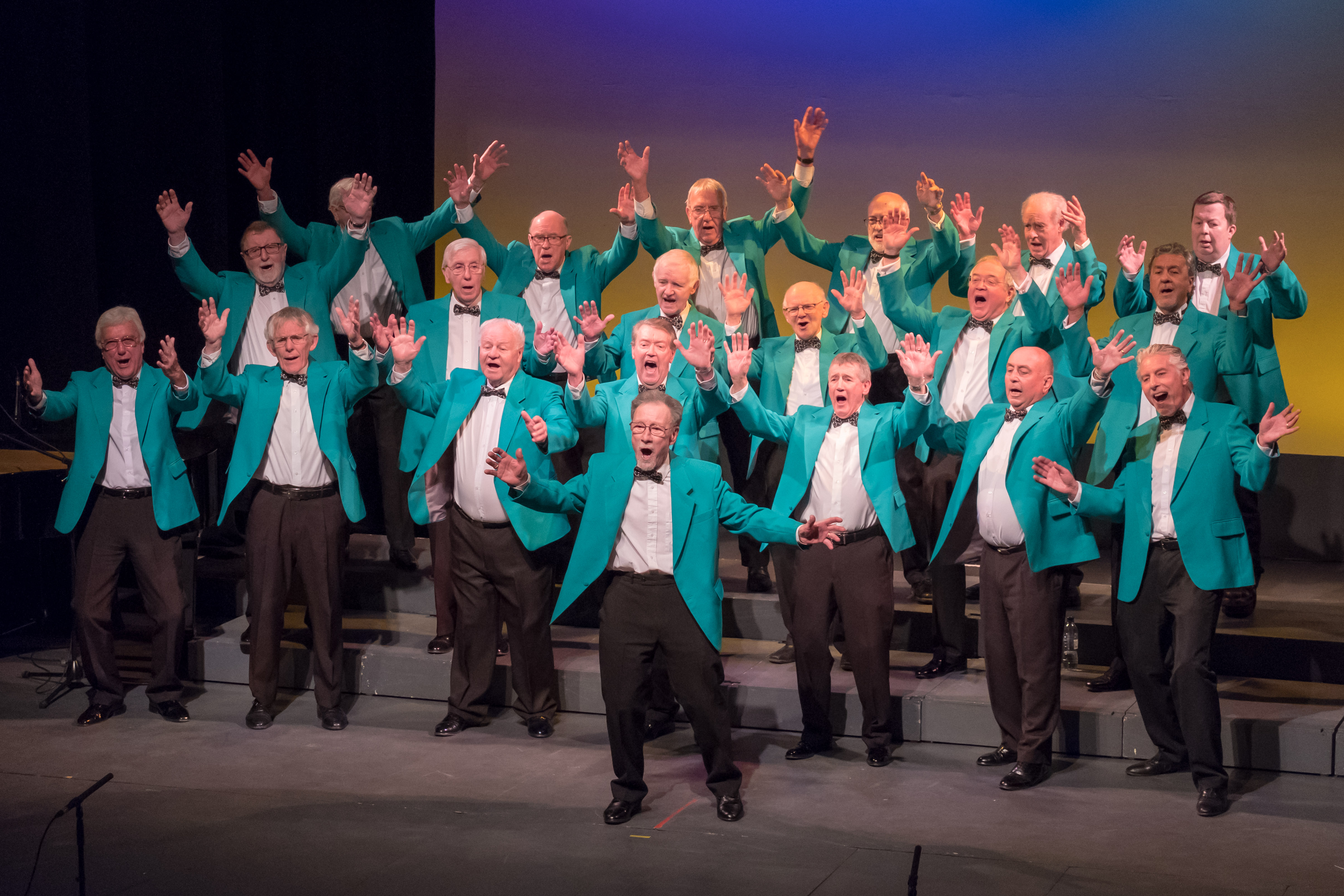 December - Singing for St Gemma's - John Lewis Centre, Leeds
2018
February - Nidd Hall Hotel - Killinghall
March - York Community Choirs - Joseph Rowntree Theatre
March - Youth Music's 100 Choir Event - Leeds Railway Station
May - Wharfedale Music Festival - Ilkley
June - NHS Retirement Club - Crown Hotel, Harrogate
June - Concert - St Mary's Church, Boston Spa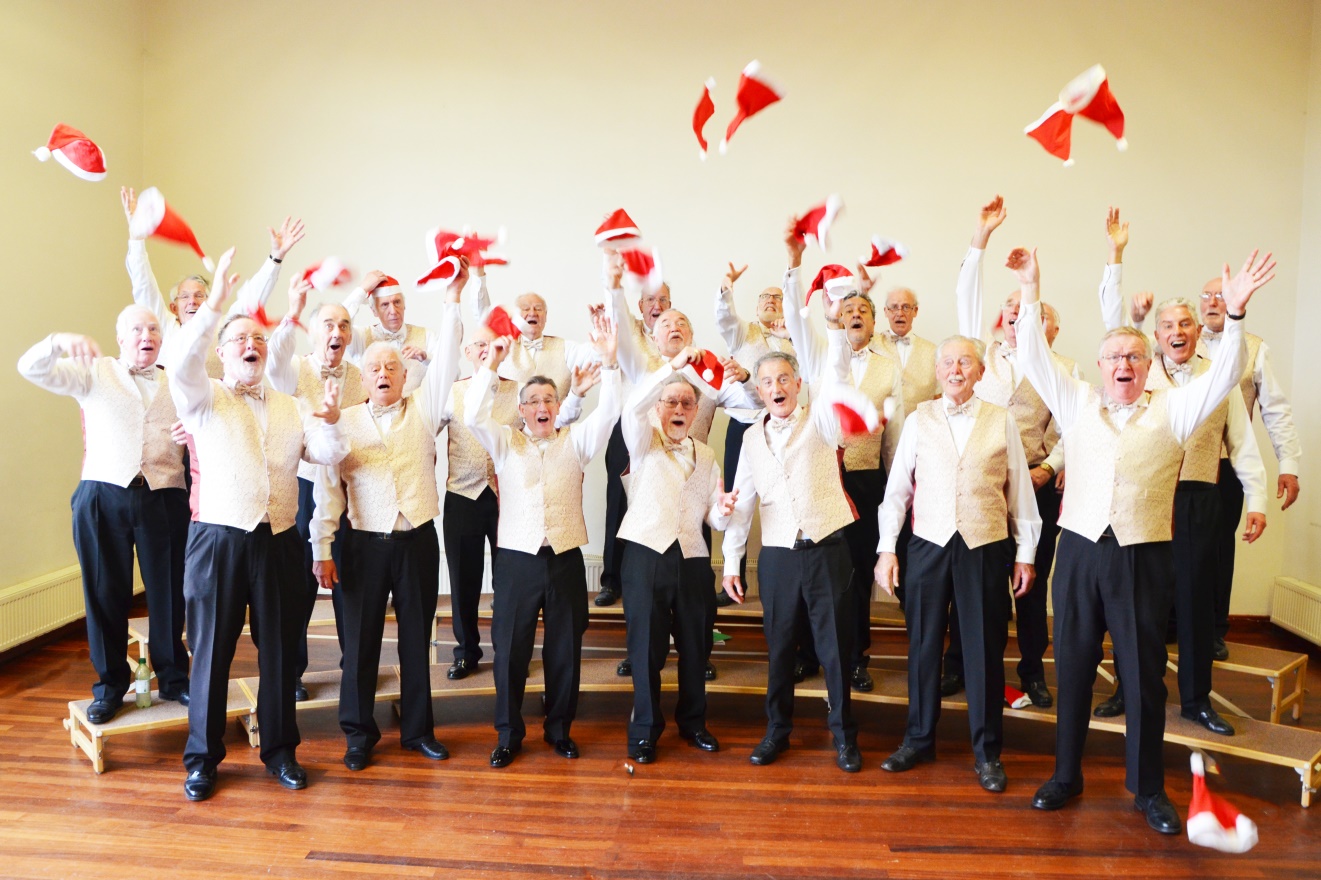 June - U3A concert - Wetherby
August - RHS Garden Harlow Carr - Harrogate
September - Manhattan Voices Joint Concert - Scarborough
October - Pusey Live at Home - Pudsey
October - Bandstand - Wetherby
November - Thursday Group - Cookridge Methodist Church
November - Village Hall fundraising concert - Clifford
December - Collingham Men's Forum Xmas - Wetherby Golf Club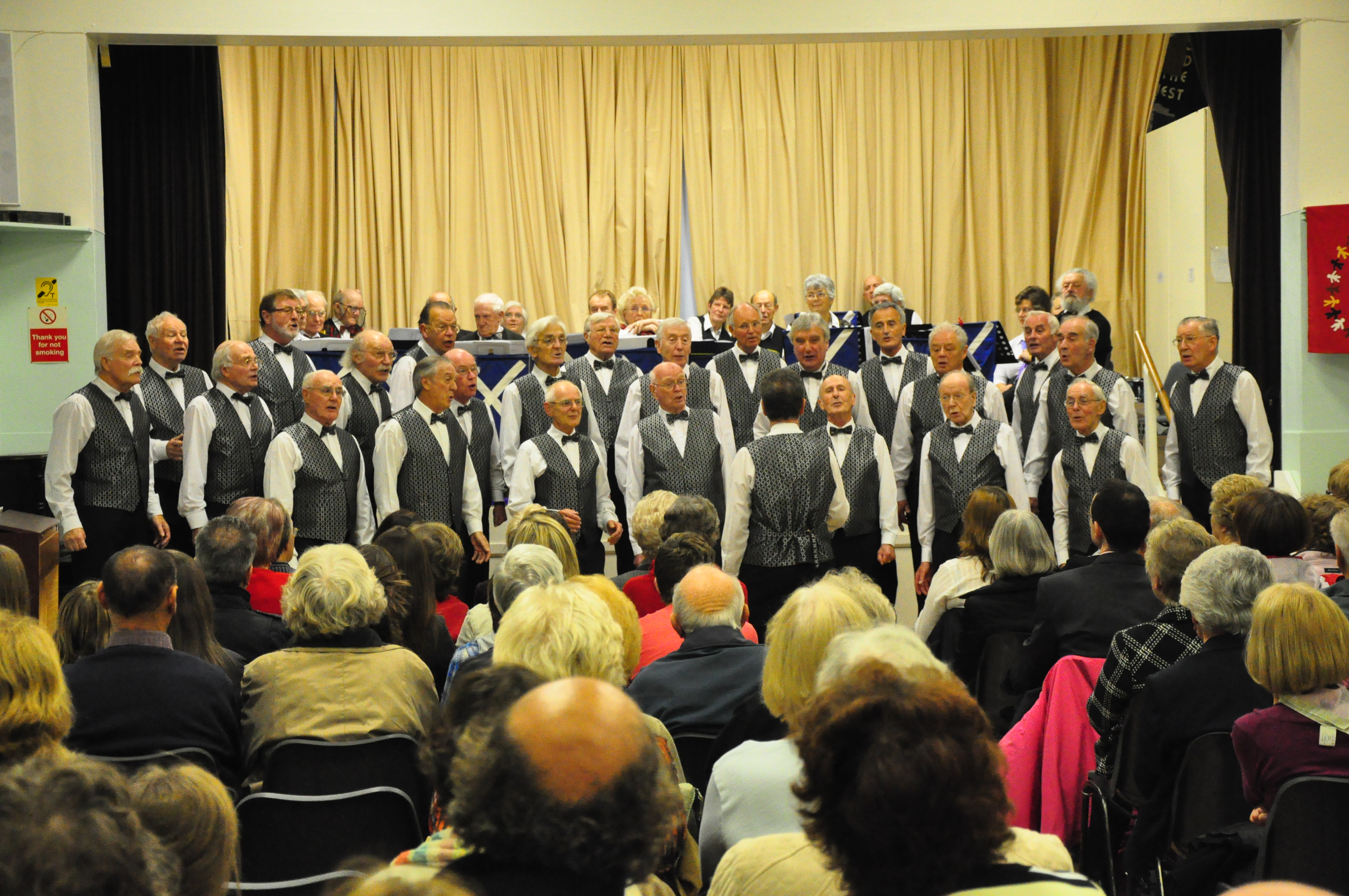 December - Menston Men's Forum - Kirkland Hall
December - Wetherby Men's Forum - Walshford Inn
December - Farsley Live at Home - Farsley
December - Singing for St Gemma's - Leeds Markets
December - Singing for St Gemma's - John Lewis Centre
2017
January - Leeds Ladies' Luncheon Club - Cosmopolitan Hotel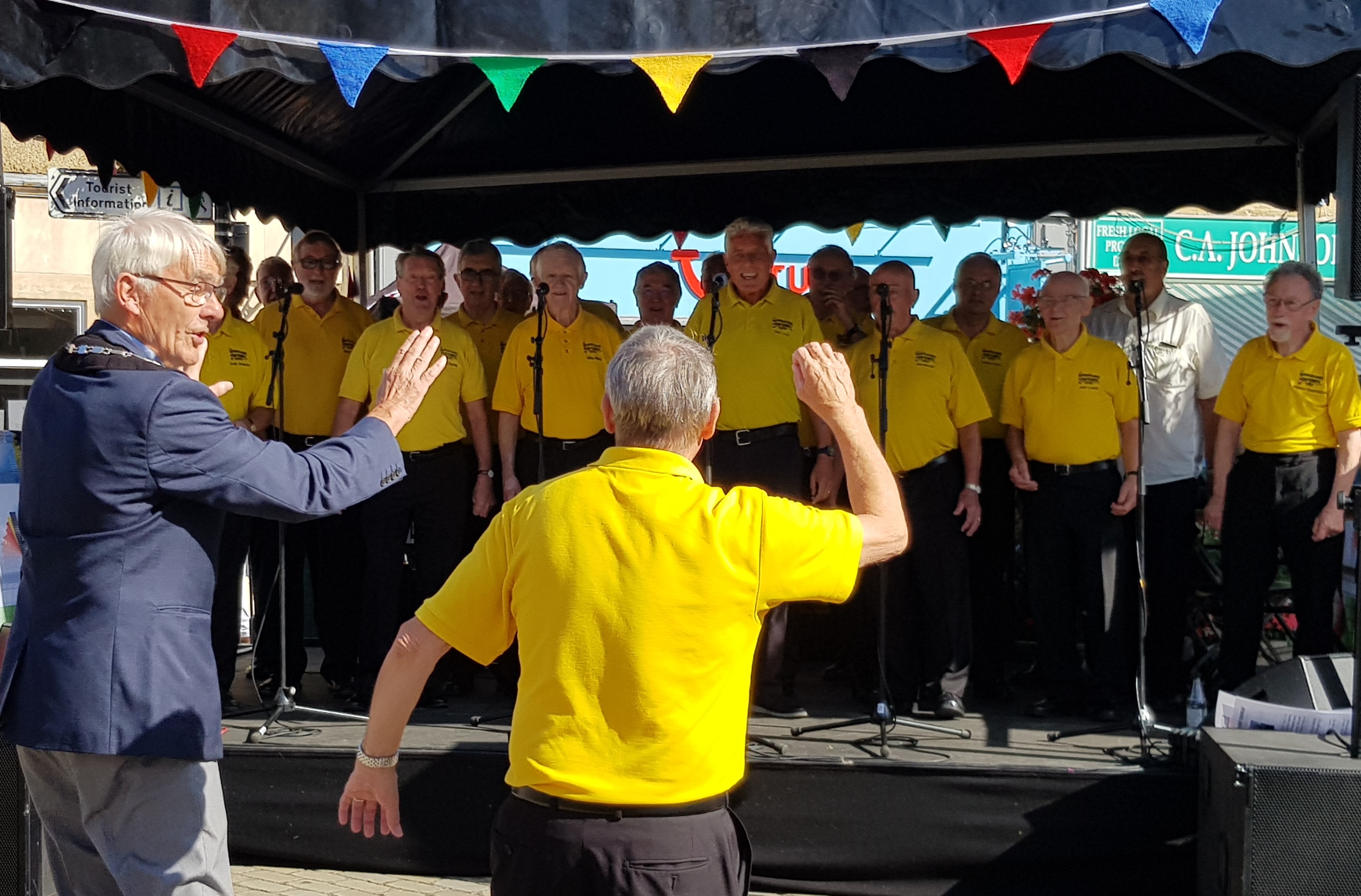 March - York Community Choirs - Joseph Rowntree Theatre
April - Collingham Men's Forum - Collingham
May - M&S Retirement Club - Harrogate
July - Moor Allerton Elderly Care - Shadwell Village Hall
October - Connaught Court - Fulford, York
November - Remembrance Service - York Barbican
December - Knaresbrough W.I. - St Chad's Church, Knaresbrough


---
Rehearsal/Party via Zoom
Tue, 22 Dec 2020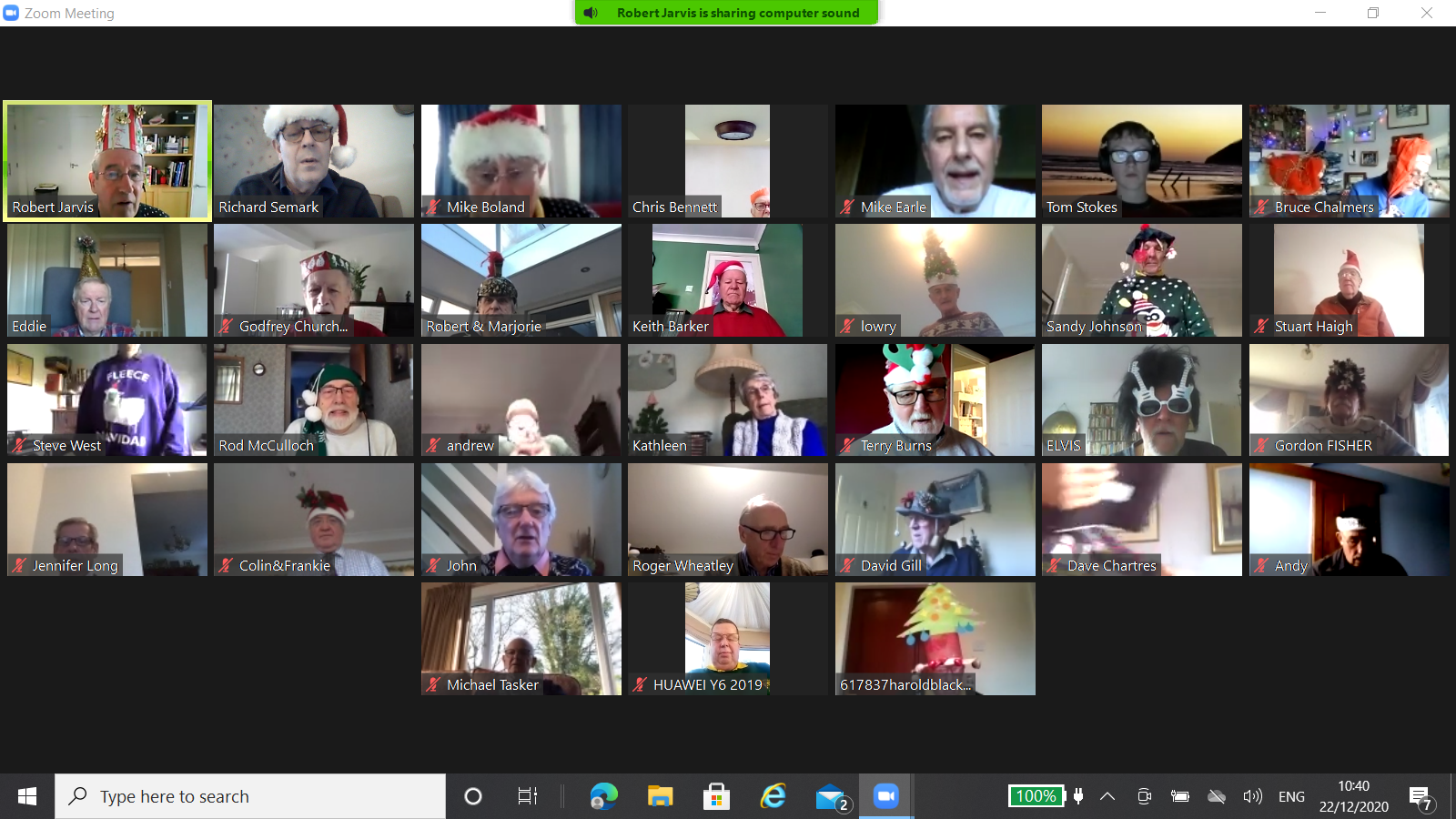 For our last Zoomed rehearsal of the year, under the ever-capable leadership of our Deputy Musical Director (and Lord of Misrule) Robert, over thirty members were treated to some humorous entertainment with star turns, some of our famous banter, and singing of favourites from our Christmas repertoire. Musical Director Godfrey rounded off the extended party by judging the home-made Christmas hats competition, letting us all into a secret about Santa(!) and thanking everyone
for their sustained support of the chorus over the year.
---
Daytones Christmas Zoom Lunch
Wed, 16 Dec 2020
One of the year's highlights for th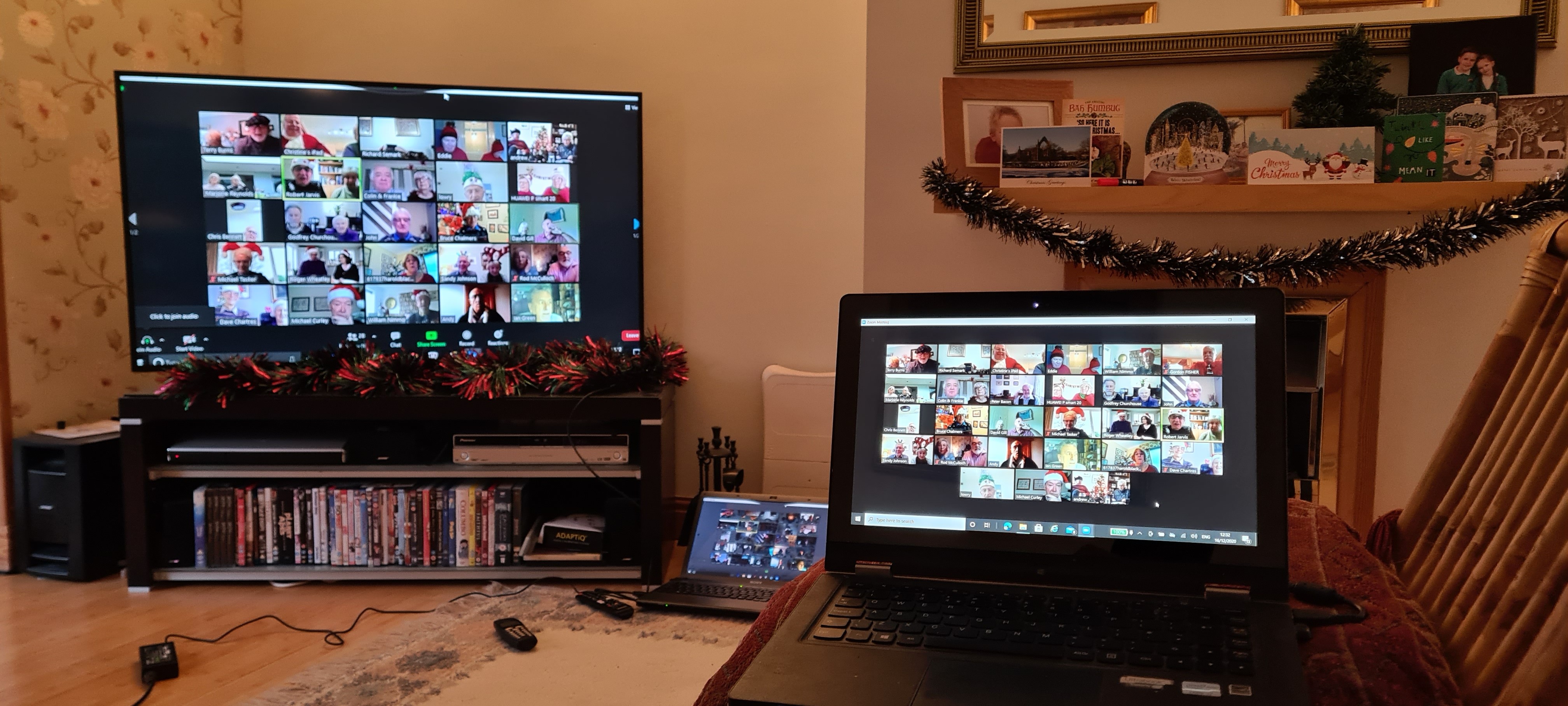 e Daytones is their Christmas Lunch held every year at a local hostelry, an opportunity to round off the year with friends, wives and partners. Not to break with tradition in these Covid times, a Zoomed "lunch" event was arranged this year to provide some silly games, some recitations, and some singing together, accompanied by some excellent "self-catering" and an occasional glass of wine!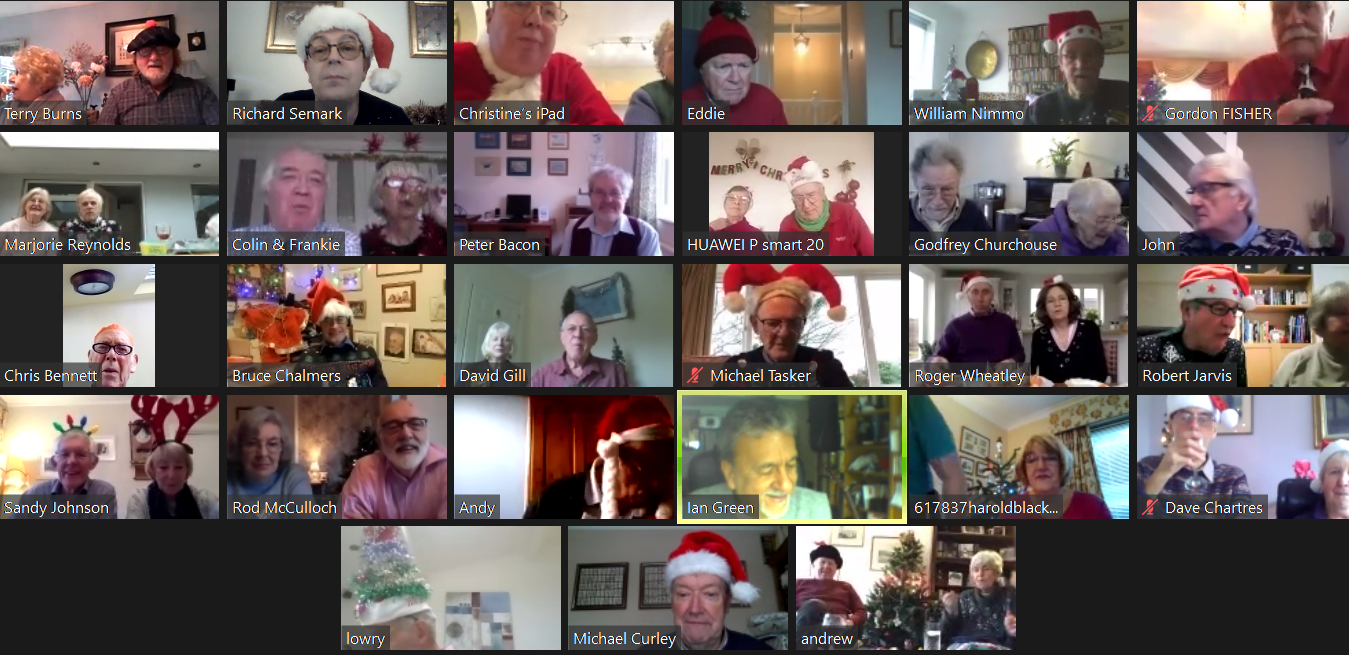 ---
Voices Yorkshire - M&S Owlcotes
Sat, 25 Jan 2020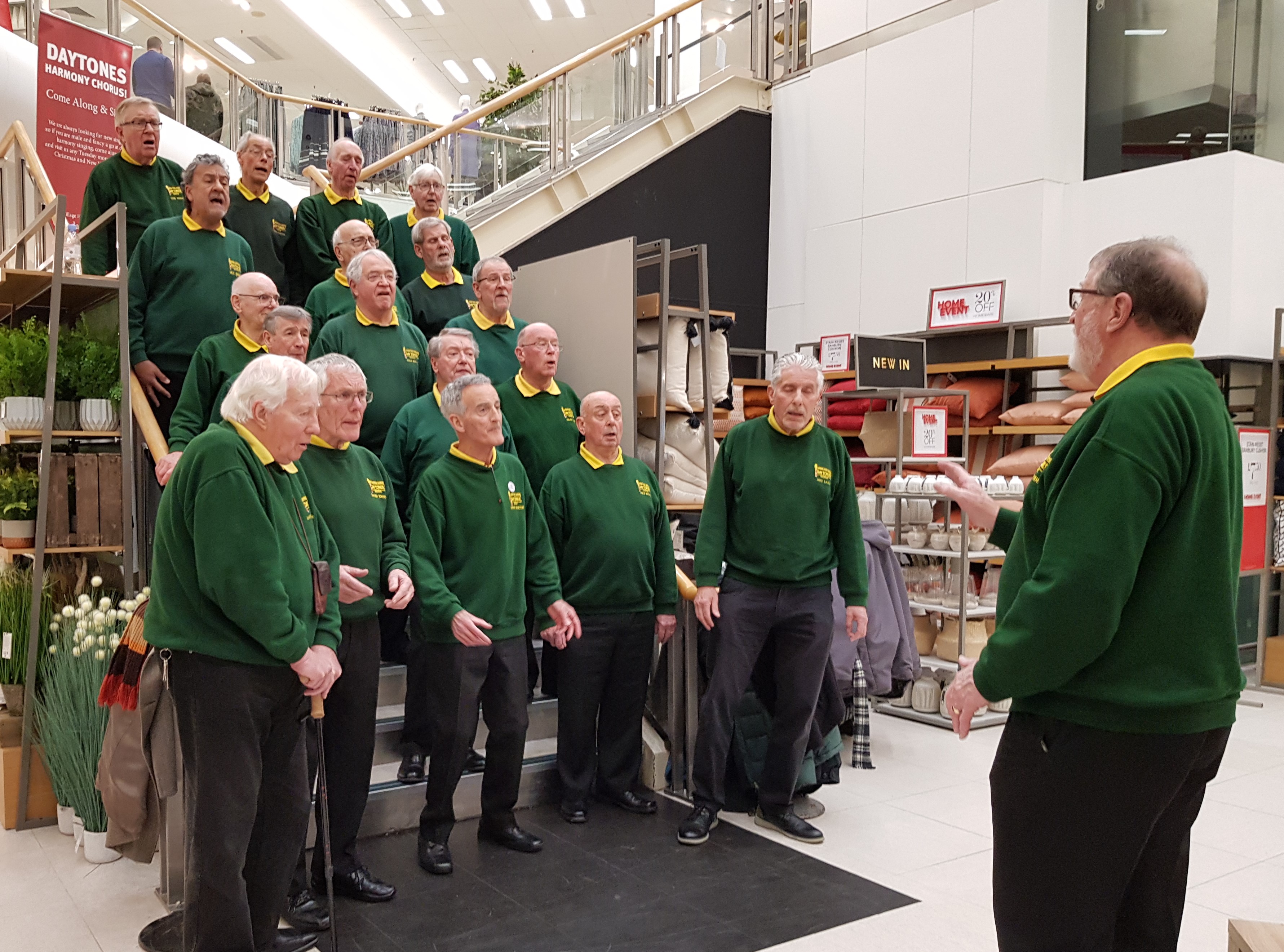 After being invited to sing at Leeds Town Hall for the prestigious "Voices Yorkshire" concert (September 2019) showcasing successful Yorkshire choirs, the Daytones were invited back to perform at M&S Owlcotes to maintain the profile of this important project.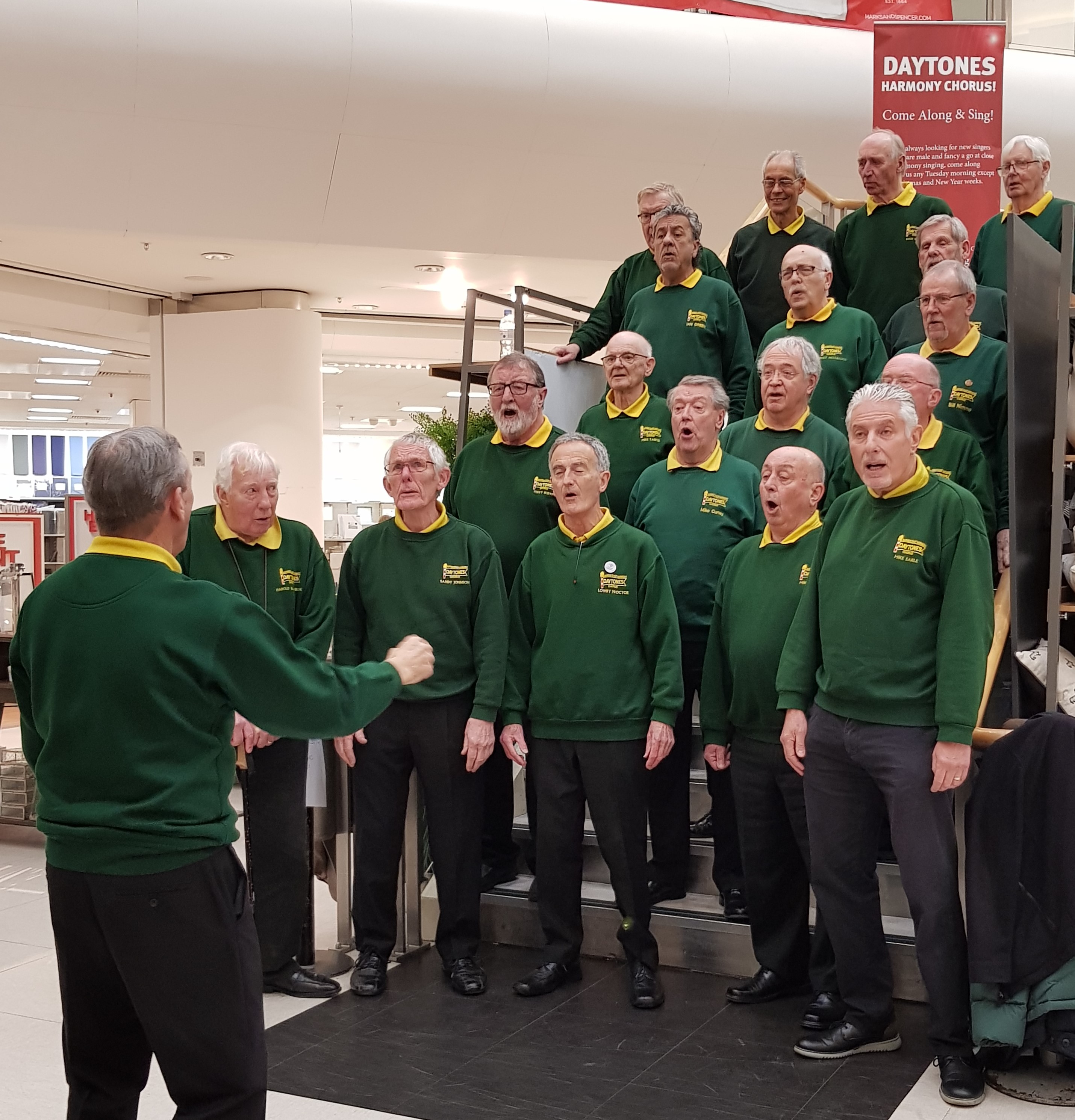 The event was quite different from the illustrious stage of the Town Hall, but the Daytones proved they can make music whatever the setting!



---
NZ Member Send-off
Tue, 14 Jan 2020
Like Grandfather, like Grandson!
The 14th January
saw the return to New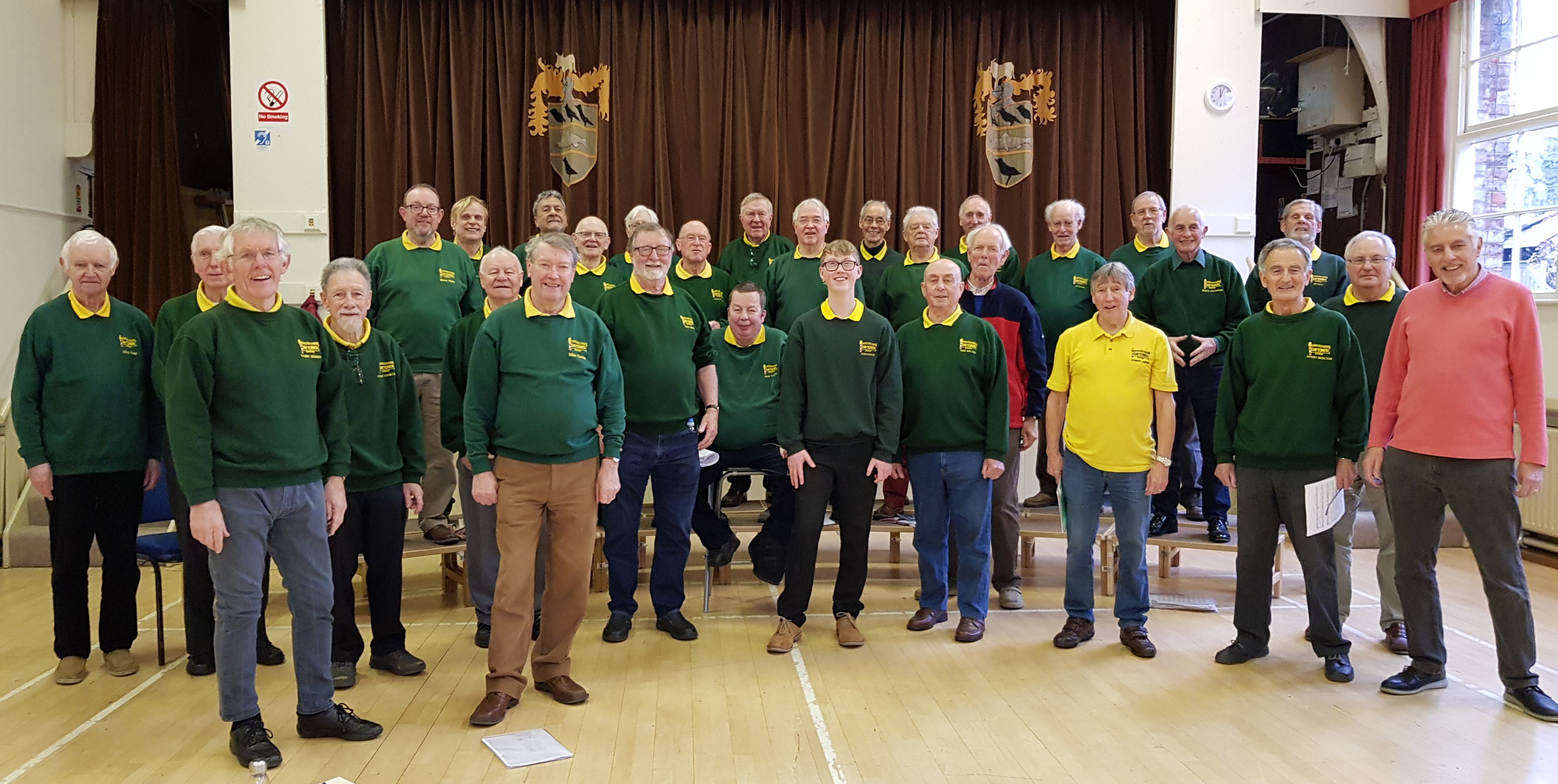 Zealand of Daytones' youngest part-time member, Tom, grandson of our Treasurer, Eddie. Every so often the family meet up at one or other side of the globe, and this year we were pleased for Tom to join us on our Christmas charity singouts.
As is customary with the Daytones, visitor Tom was invited to conduct our closing anthem before he left - he's a star in the making!
---
Christmas Lunch
Tue, 17 Dec 2019
Christmas Lunch
Members of the Daytones enjoy spending time together.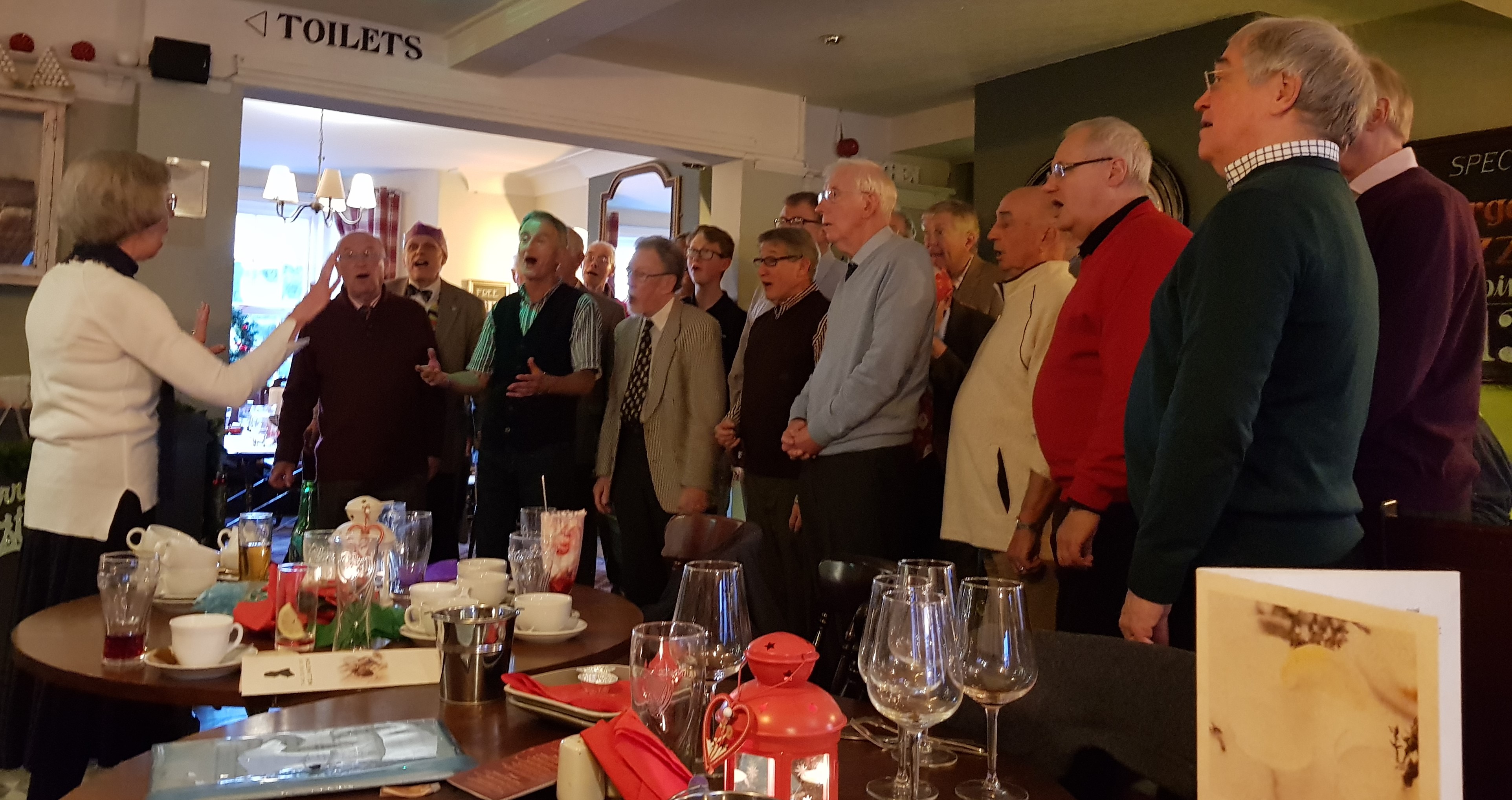 Last year members, wives and friends had an enjoyable day out in Scarborough (see entry for September), as well as a Hog Roast and Christmas lunch.

This year's Christmas lunch was in East Keswick and concluded, as is tradition, with the singing of our "Let's get together again" anthem, directed by long-term supporter (and Honorary Life Member) Kath who has served our mid-rehearsal refreshments for more years than we can count!
---
Corn Exchange
Sat, 14 Dec 2019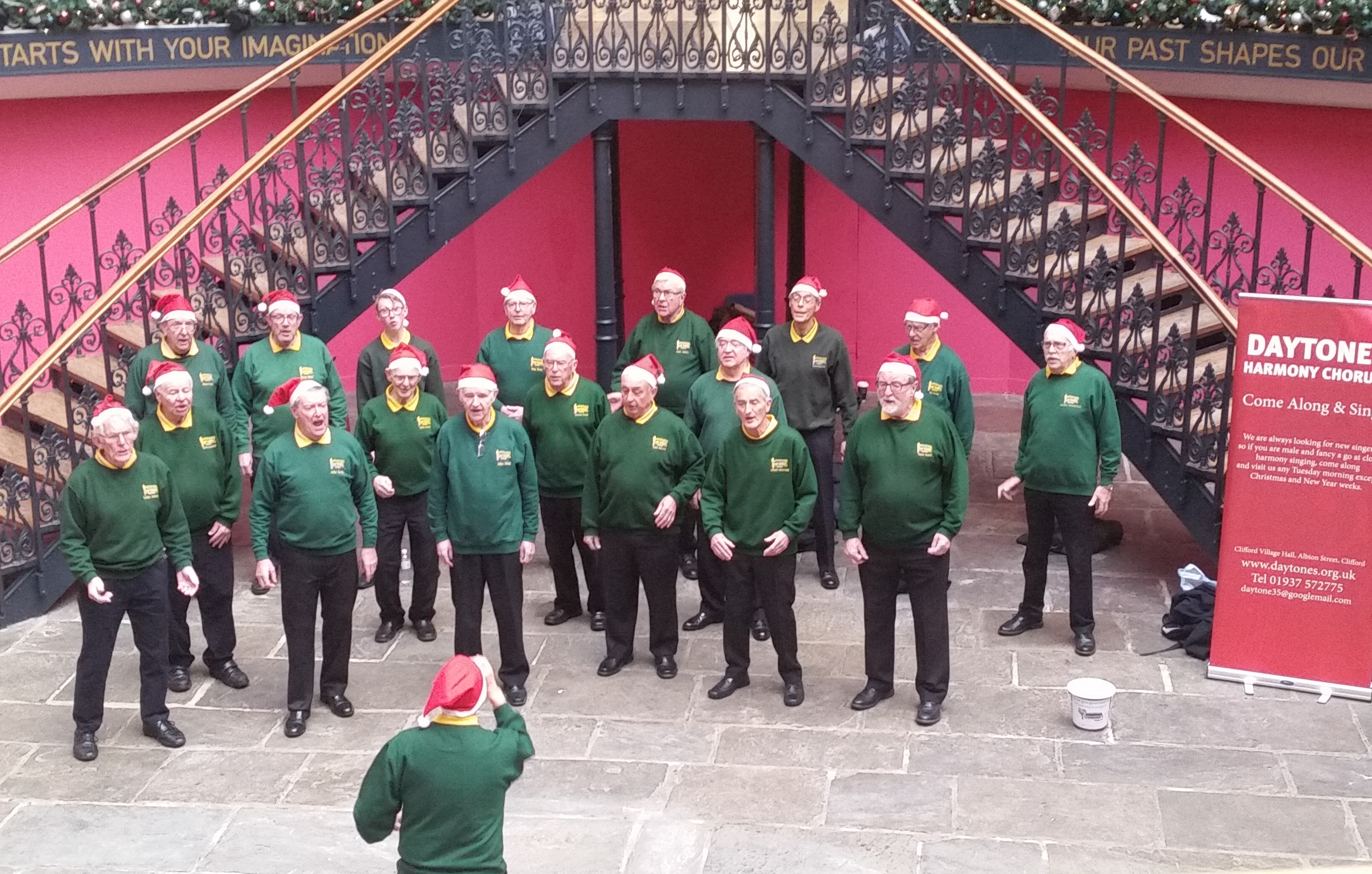 ---
Manhattan Voices Joint Concert - Scarborough
Sat, 28 Sep 2019
The Daytones got out their buckets & spades for a trip to Scarborough. We had been invited to join the ladies of Manhattan Voices for a charity concert at St Andrew's Church . After a fish & chip lunch and a stroll around Scarborough we joined the ladies who produced a mouth watering range of cakes and tea before singing to a very appreciative audience.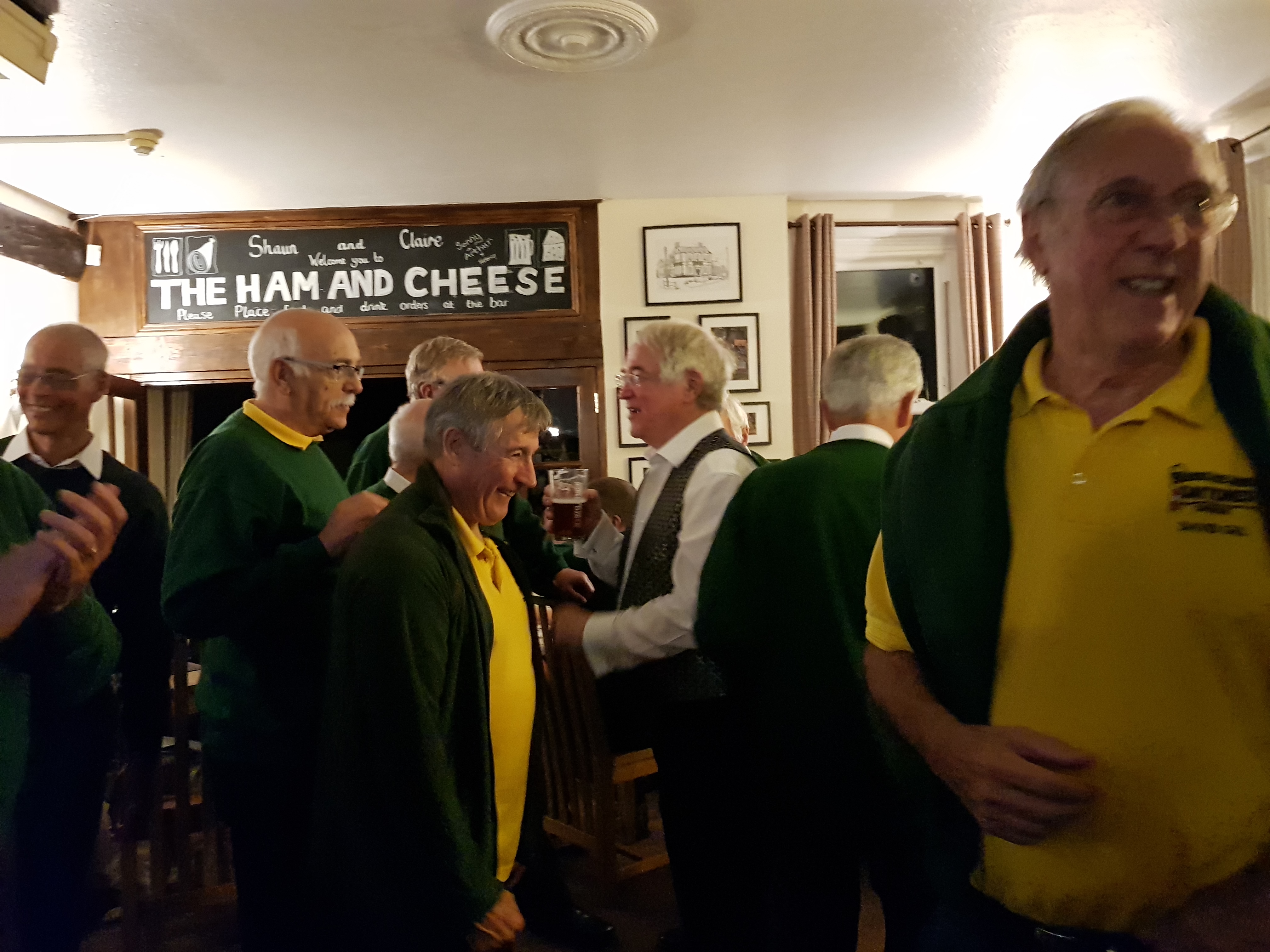 An important post-concert event for the Daytones is the "afterglow" where we retire to a nearby hostelry to enjoy some local beverages and the singing of some chorus favourites! After the Scarborough concert hospitality was warmly provided by the Ham & Cheese near Malton.".


---
Tour De Yorkshire
Sat, 21 Sep 2019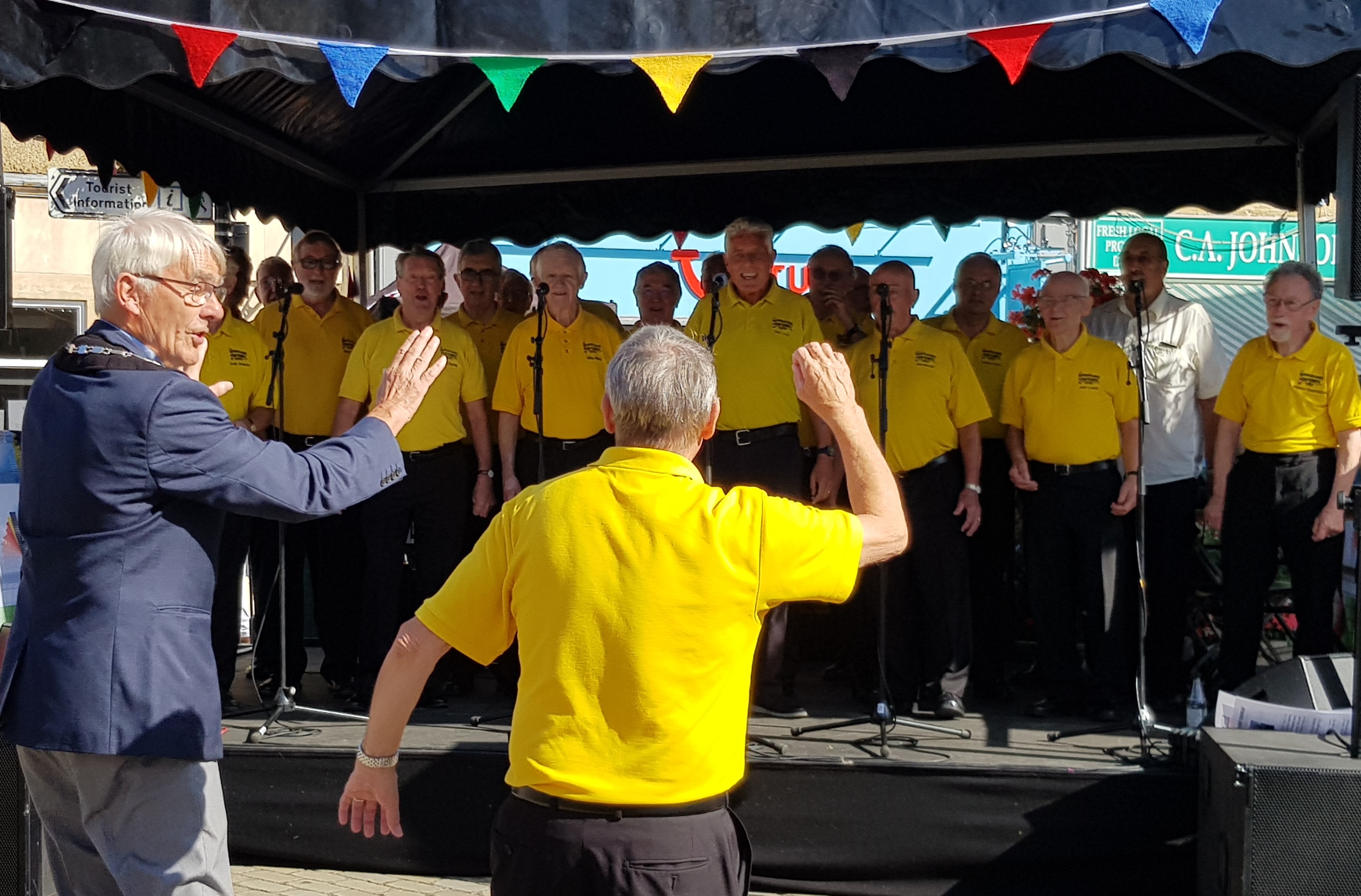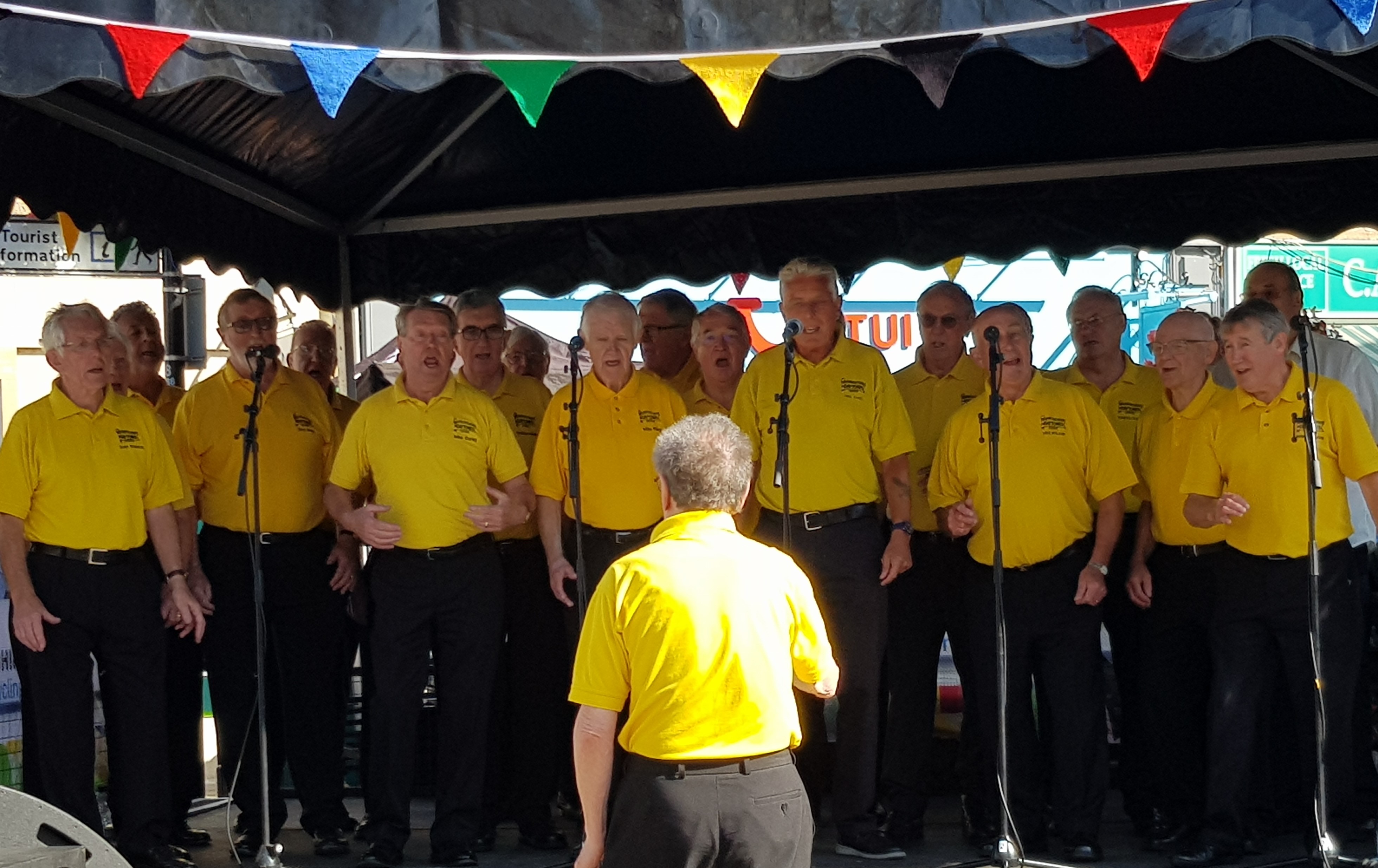 The Mayor Directs!
---
RHS Garden Harlow Carr
Sun, 21 Jul 2019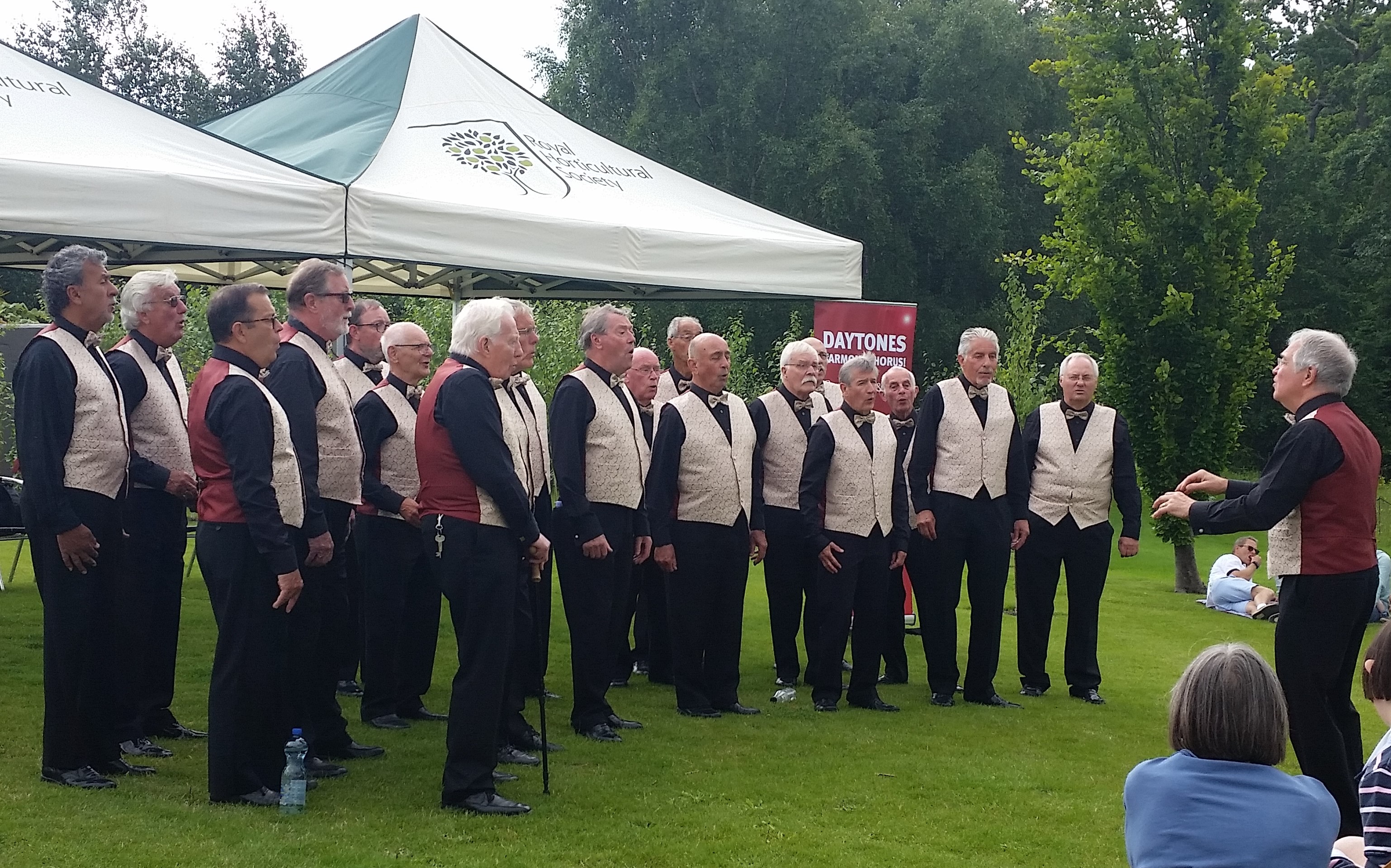 The Daytones are proud to have been invited to entertain a number of times at Harlow Carr, singing at Christmas and at summer events. Audiences are always appreciative and we enjoy contributing to the special experience which the Garden provides for visitors.
---
Boston Spa Festival
Sun, 14 Jul 2019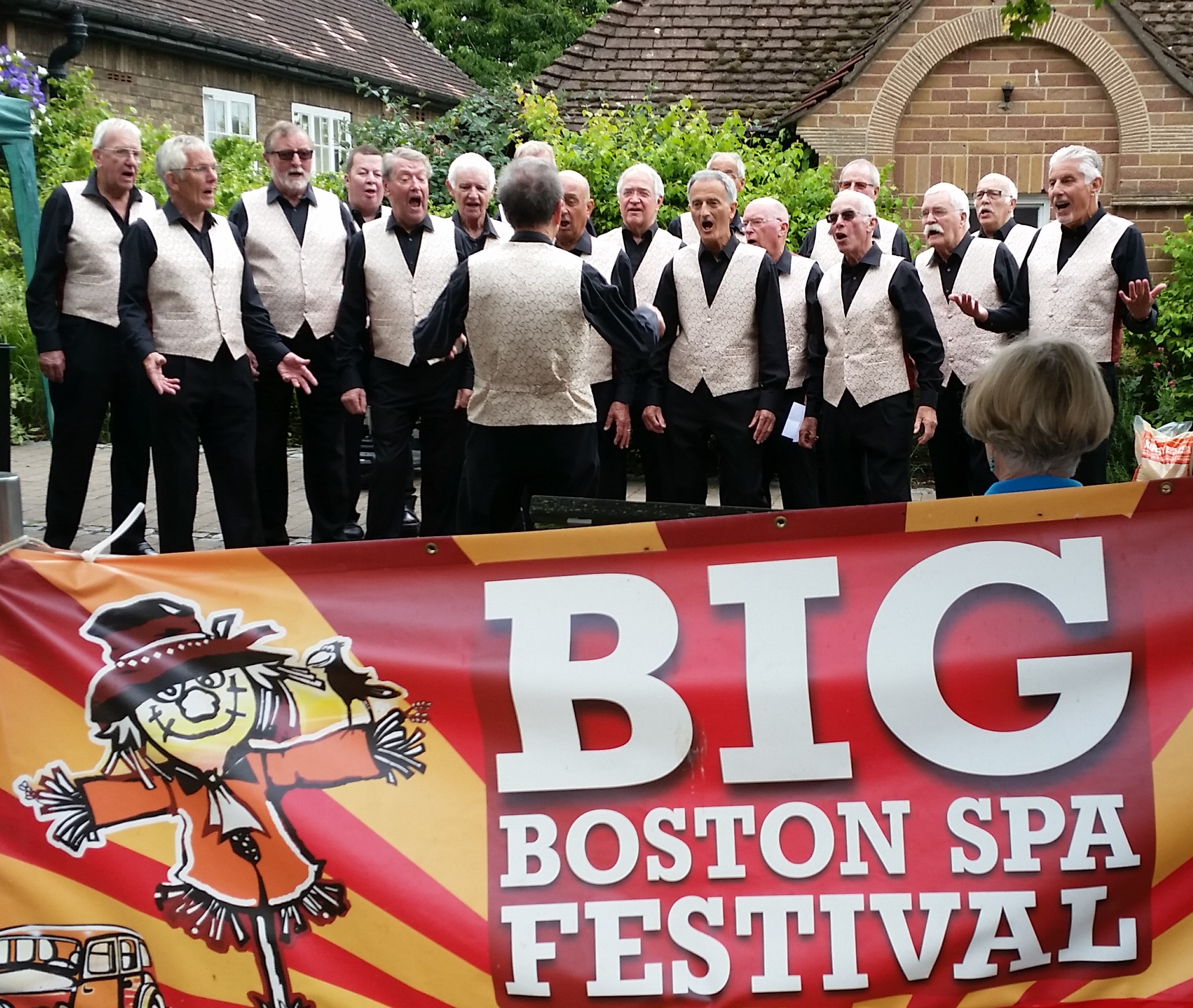 The Daytones chorus are committed to contributing to local events. In recent times this has involved singing for community events in Wetherby, Clifford and Boston Spa, and providing some live music with our barbershop harmony repertoire!
---
John Lewis
Fri, 21 Dec 2018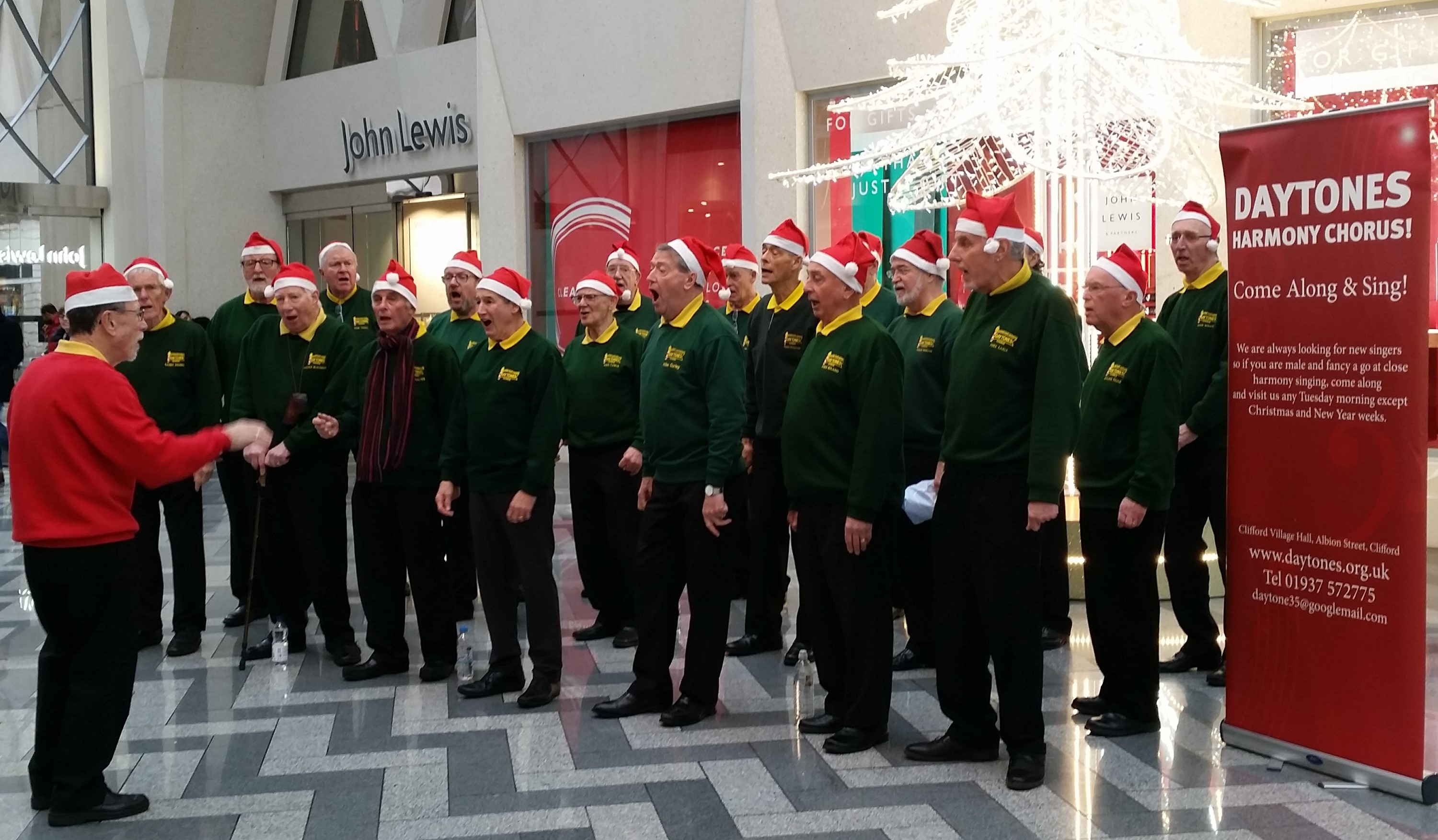 ---
Christmas Festivities
Sat, 15 Dec 2018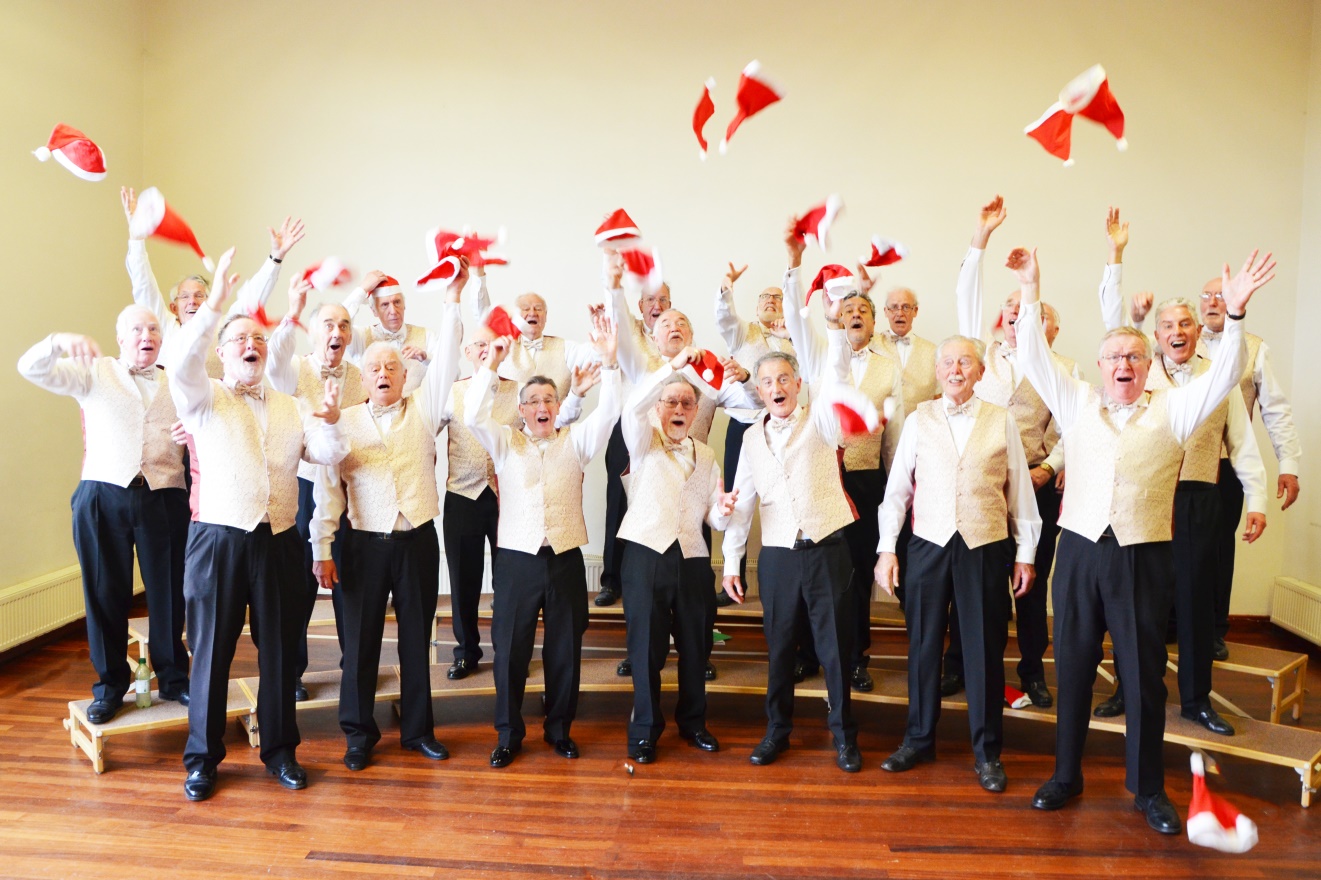 Christmas was a busy time for the Daytones. Singing selections from their repertoire at RHS Garden Harlow Carr's Illuminations event, M&S Pudsey store and the New Victoria Gate Centre in Leeds.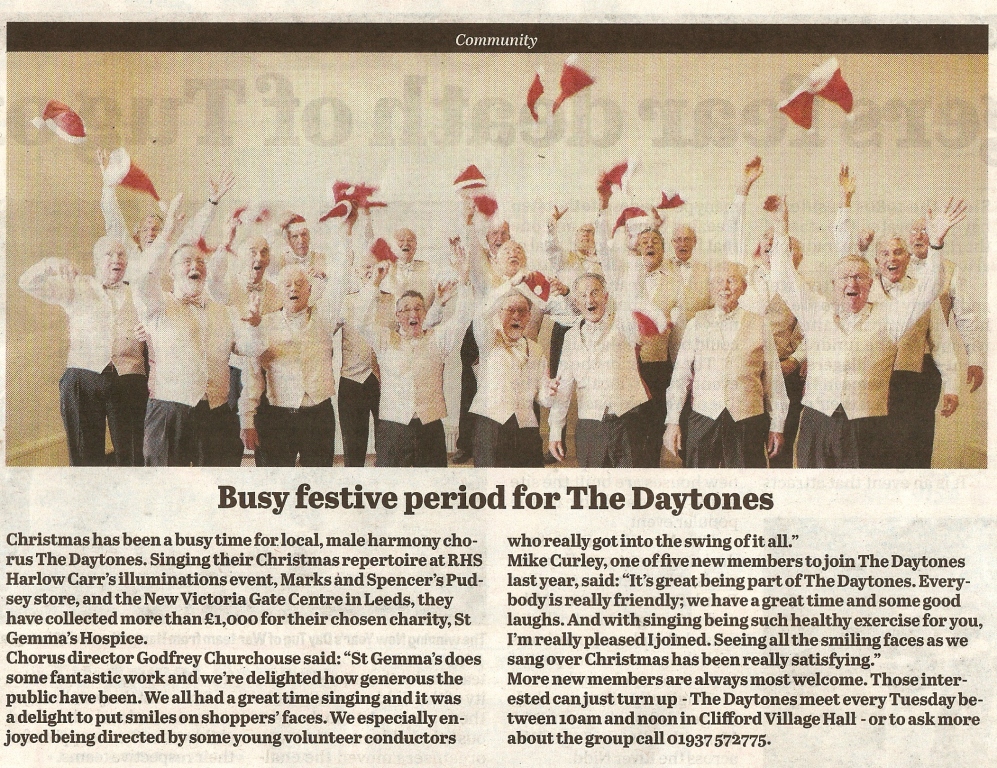 Christmas collections raised monies for the Chorus' nominated charity St Gemma's Hospice.
---
Clifford Concert
Fri, 9 Nov 2018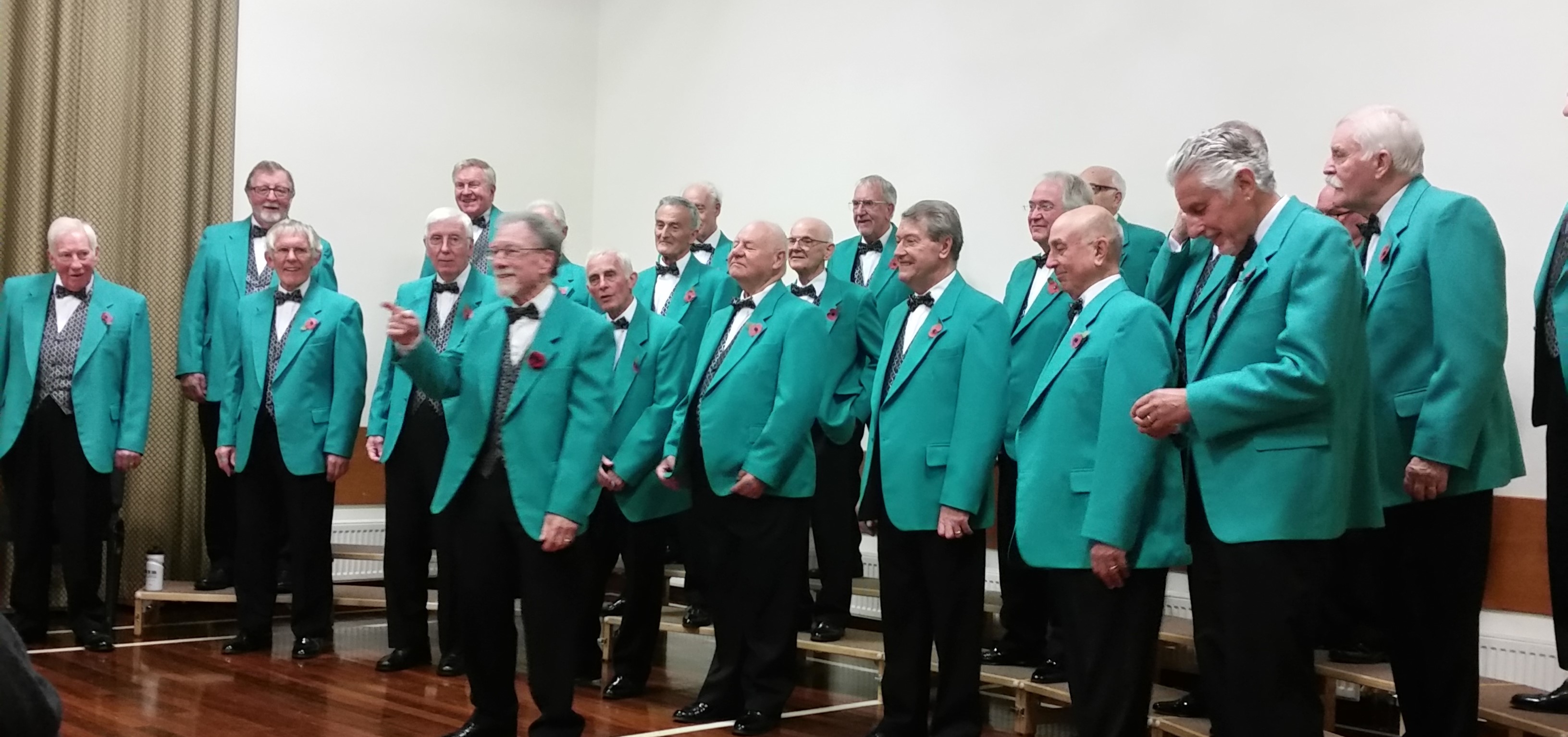 ---
St Mary's - SmallCo
Sat, 15 Sep 2018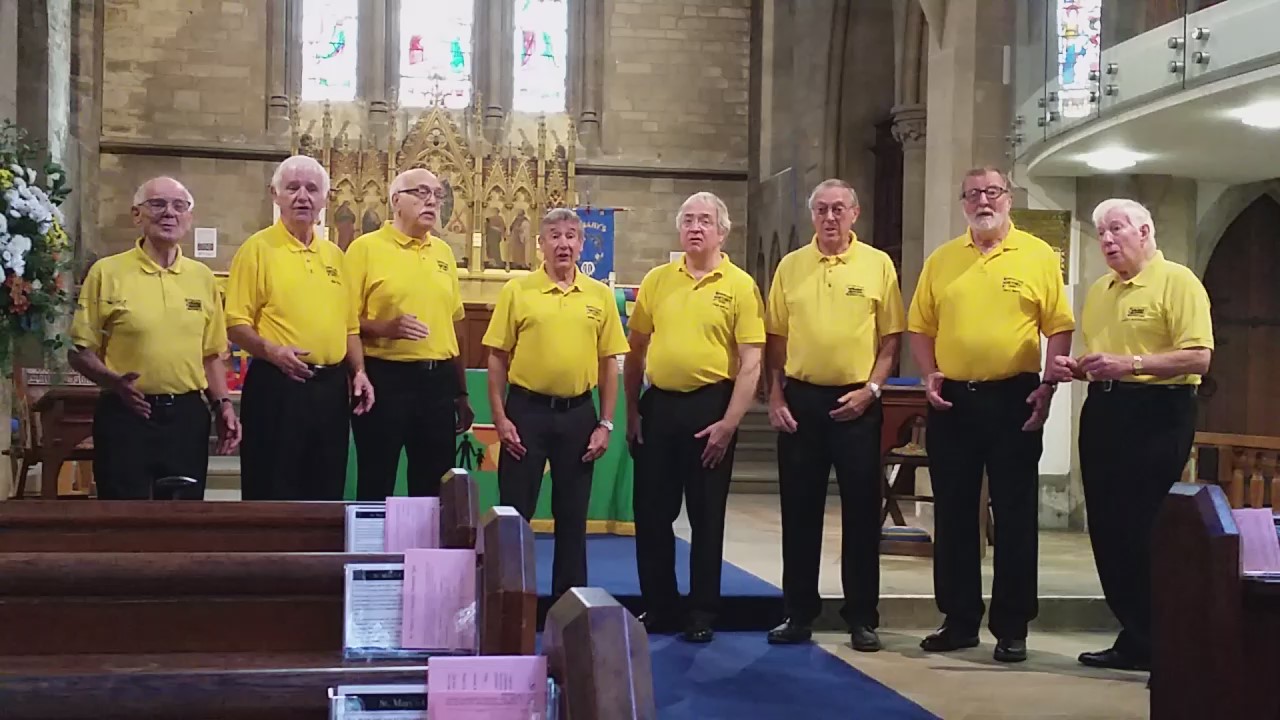 ---
Youth Music's 100 Choir Event
Sat, 24 Mar 2018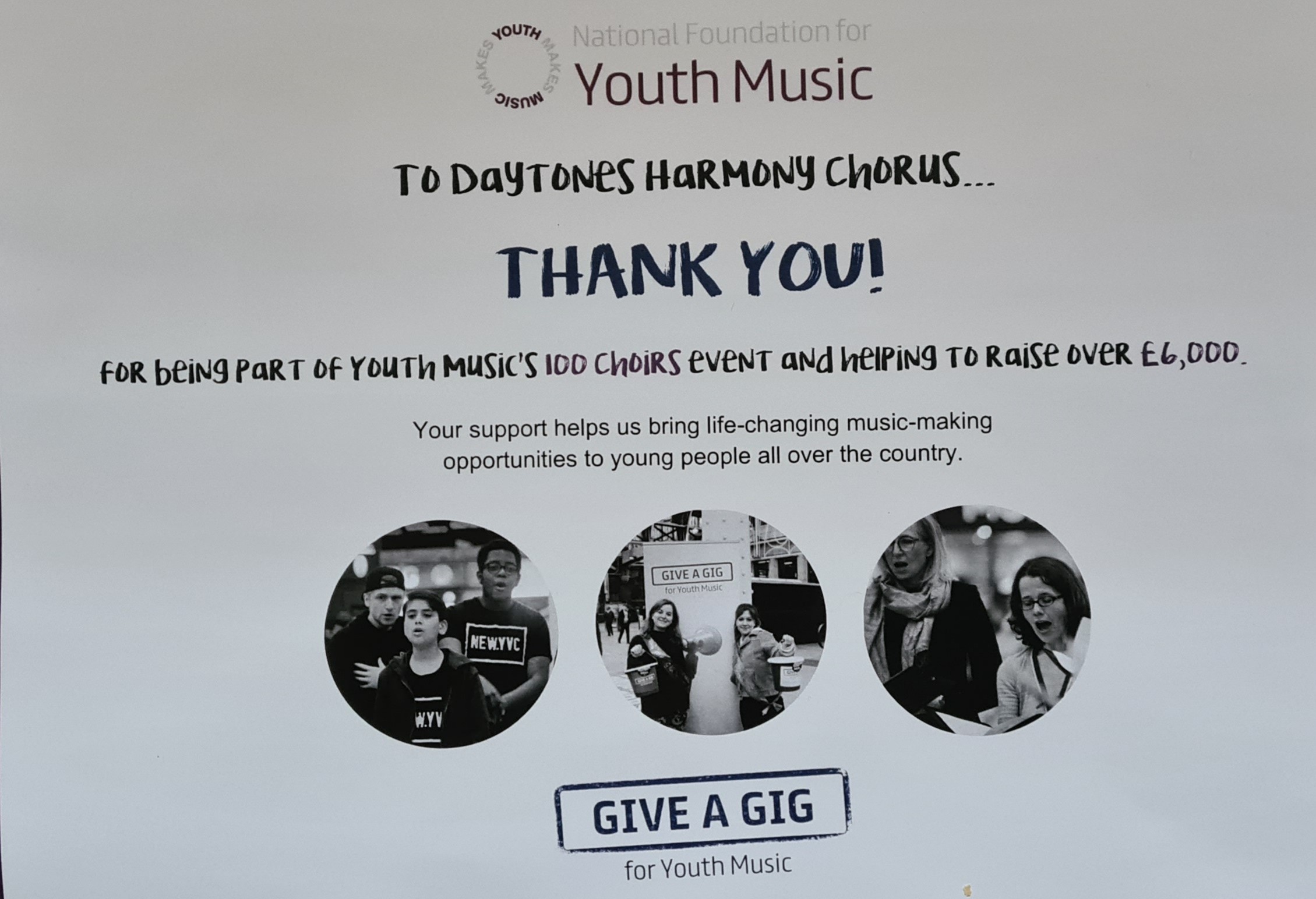 Daytones Harmony Chorus was pleased to join with many other Chorus' and Choirs for the "100 Choirs Event" at the South Concourse of Leeds Railway Station organised by Youth music.
The day raised over £6000 helping to bring life-changing music-making opportunities to young people all over the country.